Dhania is a HR Leader with 15 years' experience in strategic HR and delivery roles. She is committed to helping people and organisations realise their potential and excel in what they do. 

Dhania takes pride in her ability to quickly understand a business and its needs. She takes that understanding and thinks beyond best practices to solve business problems and focus on what matters most at work and in life. 
She loves talking about practical strategies that audiences can apply personally and professionally. 
Dhania completed her Masters in HR from Deakin University in 2020 during the long lockdown in Victoria and wrote a research paper on Employee experience during a pandemic that shared ideas and insights from her current team. 
Her strong background in employee engagement, performance and organisational development makes her a good fit to speak about 'Future of Work- No New Normal' . 
Oh, did we mention that Dhania is an Indian Australian,  a mother, a passionate foodie, unofficial whisky taste tester … and a really slow runner.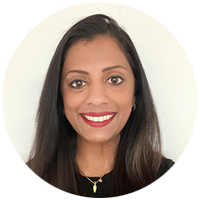 Dhania Patil
Head of Human Resources – TSS Pacific
Worldline