Jennifer is the Chief Commercial Officer at Linkly, an Australian Fintech that provides online and in-person payments technology for integrated point of sale systems for merchants in retail, hospitality, government, education, and other industries.
Linkly's customers include the major Australian banks, leading retailers such as Woolworths, Myer, JB HiFi, Bunnings, financial services companies such as Suncorp and more than 600 POS vendors.
Linkly is owned by Potentia Capital, an Australian specialist private equity investor focussed on technology and tech-enabled businesses.
Jennifer joined Linkly from Velocity Frequent Flyer (Virgin Group) where as CCO she was a member of the company's leadership team responsible for expanding member engagement and delivering strong commercial benefits to program partners.
Jennifer joined the Virgin Group from American Express, where for more than 14 years she held a number of increasingly senior roles in Australia and across the Asia region, based both in Singapore and Sydney. She was responsible for Strategy, Marketing, Sales and Client Growth and led teams of up to 200 people across 5 countries in the J/APA region.
From 2014 to 2018 she was a member of the American Express Australia Limited (AEAL) Board.
Her final role at Amex was leading Amex's Network Partner business in Australia, which licenced the four major Australian banks to issue Amex cards to many millions of customers and delivered more than 40% of the Australian Amex turnover.
During her career, she has been Executive Sponsor of Women's Interest and Development Networks, Executive Sponsor of Diversity and Inclusion programmes, has implemented Anti-Discrimination and Harassment programmes and held Mentor roles for individual mentees and as part of a multi-country Mentoring Circles programme.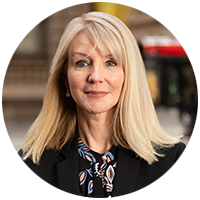 Jennifer Berthold
Chief Commercial Officer
Linkly