Lisa is currently Head of Digital Innovation & Sustainability at National Australia Bank. In this role she is using blockchain and other technologies to explore new product creation and capital innovation across both traditional and blended capital structures for impact. 
 
Lisa has over 29 years of experience in the finance industry including co-founding Australia's first Low Carbon Fund in 2007 and Change Investment Management in 2009. As a proven pioneer of the socially responsible and impact investment industry, she has established a reputation for driving superior investment returns from the economic opportunity of the transition to a low carbon economy. 
 
Lisa is also an ambassador for Earth Hour and Al Gore's Climate Reality Leaders initiative as well as a Mentor for AYP and Co-Chair of NABPride. 
 
Lisa passionately believes investors should no longer have to compromise their values for their investments and with technology and de-fi will be able to truly align their values to their investments. She is also using new technologies to promote equity and equality across financial landscapes via her work exploring the tokenisation of impact. 
 
Lisa has multiple years experience managing an international portfolio from Australia at both the Clean Energy Fund and the ESCOR Group. During her career Lisa has been a Director at Citigroup where she specialised in arbitrage and derivatives. Lisa is an experienced trader with an in-depth understanding of pricing and investing in derivatives and financial products. In her role as head of Community Assets at Bendigo Bank Lisa specialised in developing financial structures to facilitate the acceleration of impact investment, including community micro-grid investment models, co-founding the Bright Energy fund, an early stage investment in Future Super and co-creating RARI - Australia's first responsible investment ETF. 
 
Lisa has a Bachelor of Business majoring in accounting and finance. In 2011 Lisa completed a Post-Graduate certificate in Shariah Compliant Investing at LaTrobe University, Melbourne. 
 
Specialties: Lisa is a specialist investor in the transition to a Globally Efficient Economy and decentralised finance encompassing: Carbon, Social Impact, Environment, Water, Waste Management, Renewable Energy, Alternative Energy, Clean Technology, Smart Grid, Energy Efficiency, Efficient Transport and Agriculture, with specialist knowledge in Urbanisation and Climate Change. Lisa is a 1200 Hour Baptise Yoga Teacher and blends mindfulness and meditation into her financial and impact work.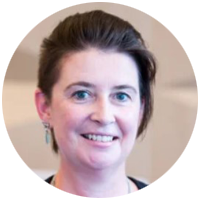 Lisa Wade
Head of Digital Innovation & Sustainability
National Australia Bank (NAB)