Nish Dharmaratne is the Global Head of Product for Global Transaction Banking business at Westpac Institutional Bank based in Australia. In her current role she covers Core Payments, New Payment Solutions, Cross Currency Payments, Domestic & International receivables, Corporate Commercial Cards, Merchant Acquiring , Liquidity solutions and Balance Sheet Management.

Prior to Westpac, Nish has over 23 years of experience in banking across Australia and Asia. She led GTS business in Singapore for Citibank in her most recent role. She has held various roles with Citi leading regional businesses in Liquidity, Payments, Investments, Client Solutions and Relationship Management.

She has a Bachelor of Banking & Finance from Monash University, Australia, Postgraduate from Chartered Institute of Marketing , UK & Master of Business Administration from University of SriJay, Colombo.

She has also completed the High Potential Leadership program at Harvard University & Women In Leadership program at UCLA, USA.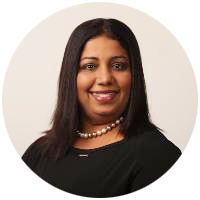 Nish Dharmaratne
Managing Director, Global Head of Product for Global Transaction Banking Business
Westpac